What is Amazon Prime & How to get your Products on Amazon Prime?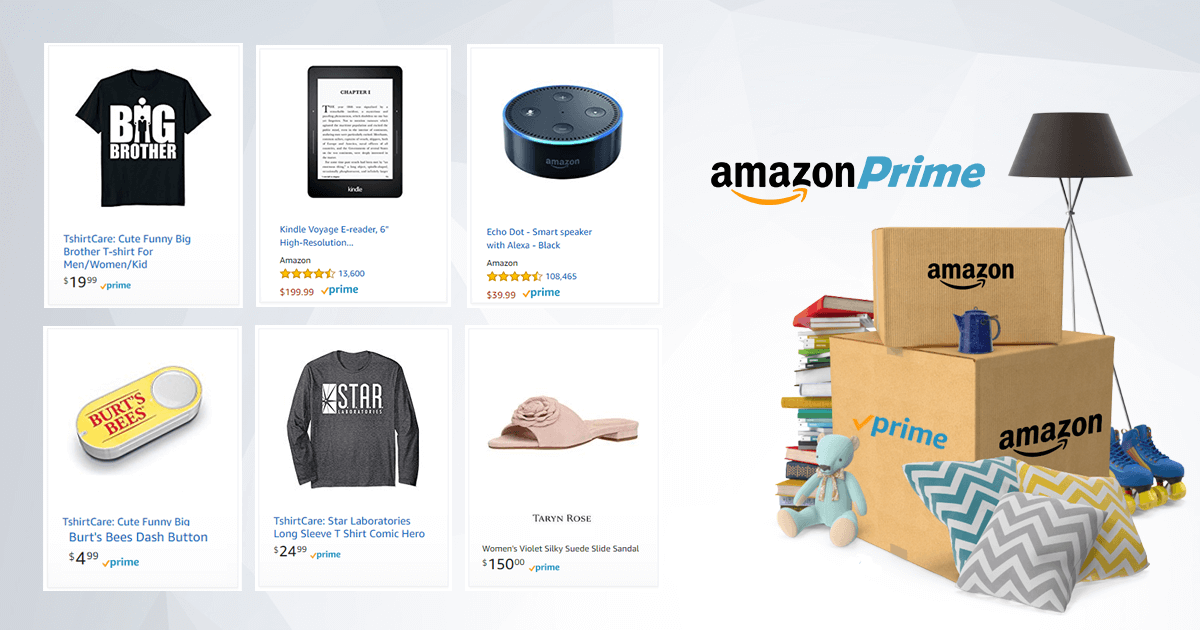 About Amazon Prime
Amazon Prime is a paid subscription service offered by Amazon.com that gives users access to free two-day delivery (one-day in select areas), streaming video/music and other benefits for a monthly or yearly fee. As of April 2017, Consumer Intelligence Research Partners estimates that Prime has more than 80 million paying users. College students and anyone who has a .edu domain in their email address can get privileges, including discounts on Prime, such as free 2 day shipping.
Members receive benefits which include FREE fast shipping for eligible purchases, streaming of movies, TV shows and music, exclusive shopping deals and selection, unlimited reading, and more.
Shipping benefits include:
FREE Two-Day Shipping on eligible items to addresses in the contiguous U.S. and other shipping benefits. For more information, go to Amazon Prime Shipping Benefits.
FREE Same-Day Delivery in eligible zip codes. For more information, go to Order with Prime FREE Same-Day Delivery.
Prime Now: Get FREE 2-Hour Delivery on thousands of items. Check your ZIP Code's availability. For more information go to Prime Now.
FREE Release-Date Delivery: FREE Release-Date Delivery on eligible pre-order items delivered on their release date to ZIP codes within the continental U.S. For more information, go to Release-Date Delivery.
FREE No-Rush Shipping: Don't need your Prime order right away? Select No-Rush Shipping and earn rewards for future purchases.
Streaming benefits include:
Prime Video: unlimited streaming of movies and TV episodes for paid or free trial members in the U.S. and Puerto Rico. For more information, go to About Prime Video.
Amazon Channels: Watch your favorite shows and movies from HBO, SHOWTIME and STARZ channels — no cable required, cancel anytime and no additional apps to download. $4.99–$14.99/month for Prime members.
Prime Music: unlimited, ad-free access to hundreds of Prime Playlists and more than a million songs for members in the U.S. and Puerto Rico. For more information, go to About Prime Music.
Amazon Music Unlimited: Prime members can get discounted Amazon Music Unlimited monthly plans and there are annual plans available exclusively to Prime members. For more information, go to Amazon Music Unlimited.
Twitch Prime: Members get exclusive discounts on physical games pre-orders and new releases. Twitch.tv users who link their Amazon Prime account get ad-free viewing on Twitch, a free Twitch channel subscription every month, and exclusive access to free game content. For more information, go to Twitch.tv.
Shopping benefits include:
Amazon Prime Rewards Visa Signature Card: Eligible Prime members earn 5% back every day on all Amazon.com purchases, in addition to rewards everywhere else you shop. For more information go to Amazon Prime Rewards Visa Signature Card.
Amazon Prime Store Card: Eligible Prime members can get 5% back every day on Amazon.com purchases and access to exclusive financing offers. For more information go to Amazon Prime Store Card.
Amazon Dash for Prime: Never run out of your favorite products with Amazon Dash Button. For more information, go to Amazon Dash Button.
Amazon Fresh: Prime members in select regions can pay an additional monthly membership fee to receive FREE shipping on all Amazon Fresh orders of $50 or more, or pay a flat delivery fee for each order they place under $50. For more information, go to About AmazonFresh.
Prime Pantry: Prime members in select regions can shop for groceries and household products in everyday sizes and pay an additional delivery fee. Prime Pantry orders cannot be shipped to addresses in Alaska, Hawaii and Puerto Rico. For more information, go to About Prime Pantry.
Deals and Discounts, Compliments of Amazon Family: These include up to 20% off diapers, baby food, and more through Subscribe & Save and 15% off eligible products from your baby registry. For more information go to Get Up To 20% Off Diapers, Baby Food, and More or About the Completion Discount.
Prime Early Access: Get 30-minute early access to Lightning Deals on Amazon.com. For more information, go to About Prime Early Access.
Amazon Elements: Access to Amazon Elements products, Amazon's own line of everyday essentials.
Other benefits include:
Membership Sharing: Two adults living in the same household can create an Amazon Household to share certain Amazon Prime benefits. For more information, go to About Amazon Households. If you have a paid Prime membership under your personal account you can share your shipping benefits with your Amazon Business user account. Go to Amazon Prime and Business Accounts.
Prime Photos: Secure unlimited photo storage and enhanced search and organization features in Amazon Drive for you and the members of your Family Vault. For more information, go to About Prime Photos.
Note:
**Amazon Prime isn't available for customers who purchase products for the purpose of resale or use Amazon Prime to ship products to their customers or potential customers.
**We may change these benefits occasionally as provided in the Prime Terms & Conditions.
**Some items are not available for Two-Day Shipping due to special shipping characteristics and instead will receive free standard shipping, which delivers in 4-5 business days.
**Your Prime Membership may be subject to sales tax in some states.
**Customers who are guests of another membership aren't eligible for the following benefits unless they are eligible through their Amazon Household: membership sharing, Kindle Owners' Lending Library, Prime Video, Prime Music, and shopping discounts provided by Amazon Family such as 20% off diapers and 15% Baby Registry Completion discount. Customers who are guests of another membership aren't eligible for Prime Photos.
**Prime members with certain discounted monthly Prime offers can't share their Prime benefits.
**To use Kindle Owners' Lending Library, the Kindle device must be associated with the Prime account that's eligible for the benefit.
Sell Products on Amazon
Fulfillment by Amazon (FBA)
Fulfillment by Amazon is just the best way to go. In order to get Prime, you've got to be using FBA, which isn't a huge shocker. There are a few exceptions to this rule, but they tend to be very large, mainstream manufacturers rather than smaller brands. Orders that are self-fulfilled can still benefit from low postage rates using Amazon approved carriers. When a customer purchases an item from you, you have the ability to print out a pre-paid postage label from your Amazon account. Otherwise, you can choose to use your own preferred carrier and postage label. When I first started selling on Amazon 9 years ago, this was the only option available to us. This meant I had to package and ship out individual orders on my own, or with helpers as my business started to grow. Amazon FBA, or Fulfillment by Amazon, is a service offered to sellers whereby Amazon warehouses your products, ships, and handles all customer service and returns on your behalf.
The FBA program is open to all sellers, whether you're on the individual or professional seller account plan. If you decide to use FBA services, you will need to send stock of your item to Amazon's warehouse.
Benefits of using Amazon FBA
** Your Products will be available for Amazon Prime shipping (2 Day, Next Day, Same Day shipping)
** Scale Faster – Outsource employees, warehousing, packaging and shipping, etc.
** Amazon Award Winning 24/7 Customer Service for your FBA Products
** Business Automation – More free time to work 'on' your business, instead of 'in' your business
Buy Box
When browsing on Amazon, customers will navigate to a product's main page and click on the "offers" links below the product description (as indicated by the red circle on the screenshot below) to see the majority of available sellers. The Buy Box is the box on a product detail page where customers can begin the purchasing process by adding items to their shopping carts.
Types of merchants
** Merchants selling unique-to-them products. (Companies who produce their own products, such as a company that designs its own jewelry.)
** Merchants who sell hobby or niche products. Amazon generally won't start fulfilling or carrying hobby or niche products, so there's less of a risk you'd have to compete with Amazon itself.
** Merchants selling refurbished or used products. Amazon has a huge market for these products, as they attract shoppers whose main concern is price and don't mind waiting on shipping. It is worth noting, however, that used products cannot win the Buy Box spot.
Product Selection
Products are only allowed to be listed once in the Amazon catalog, so creating a second product detail page for an existing product will result in your listing being removed. By matching your product to the product detail page that already exists, your offer has a chance to be seen.
Shipping methods
Amazon doesn't allow new merchants to offer certain shipping methods right off the bat, such as two-day shipping. These shipping methods have to be earned by establishing a history of reliable shipping at the slower shipping speeds.
Before I start selling on Amazon
** Product detail page rules
** Shipping policies
** Policies and agreements
** Selling Policies
---